headspace


Armidale
150 Rusden St (located in CBD near public transport), Armidale , New South Wales 2350

Phone (02) 6738 7272

Fax (02) 6771 5747
headspace Armidale is linked to headspace Tamworth which is a service tailored for the local community.
We provide free services for young people aged 12-25 years. Anyone can make a referral including self-referral, family, friends, service providers and health professionals. Referrals can be made in person, by phone, in writing (email, fax, letter) or online. To access our online referral form, click on this link:
https://addme.cloud/form/centacarenenw-youthservices
headspace is not a crisis service: for emergency assistance call 000
Other helpful contacts: Mental Health Line 1800 011 511 Kids Helpline: 1800 551 800 Lifeline 13 11 14 Suicide Call Back: 1300 659 467 eheadspace: 1800 650 890 or eheadspace.org.au
Hours
When we are closed please contact headspace Tamworth for more information
Monday:

8:30am - 5:00pm

Tuesday:

8:30am - 5:00pm

Wednesday:

8:30am - 7:00pm

Thursday:

8:30am - 5:00pm

Friday:

8:30am - 5:00pm

Saturday:

Closed

Sunday:

Closed
headspace Armidale is linked to headspace Tamworth and operated by Centacare New England North West.
Mental health workers – which may include psychologists, psychiatrists, counsellors and other workers – that can help if you're just not feeling yourself.
Workers either on site or linked to the centre who can assist you with work or study opportunities. 
Workers either on site or linked to the centre who can assist you with any alcohol or other drug concern.
A group of young people who help with events and some decision making at a centre. Ask your centre about getting involved.
"As soon as I sought help, I suddenly realised that my anxiety was very treatable and that I wasn't alone."
- Charlie
More information
headspace Armidale is not an acute or crisis mental health service.
If you or a young person you are supporting is in need of immediate support, please call the Mental Health Line (1800 011 511), Lifeline (13 11 14) or Kids Helpline (1800 55 1800). In an emergency, contact 000 immediately.
For young people, their families and professionals:
Please fill out our online referral for headspace Armidale https://addme.cloud/form/centacarenenw-youthservices
General Practitioners should include a Mental Health Care Plan (if appropriate) for the young person.
headspace Armidale is closed on weekends and public holidays. We will update our opening hours should there be any additional closures such as during holiday periods.
Upcoming NSW Public Holidays:
13th June 2022 Queen's Birthday
3rd October 2022 Labour Day
25th December Christmas Day
26th December Boxing Day
27th December Christmas Holiday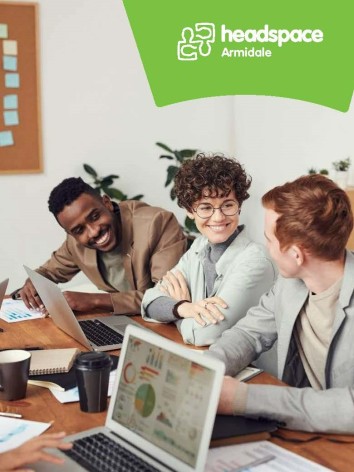 At headspace, we make sure young people are at the center of everything we do. There is no one better qualified than young people themselves. That's why we are currently recruiting a Youth Reference Group (YRG).
Members of the YRG are a voice for local youth culture and provide their perspective on how headspace Armidale operates. In return, we mentor and upskill members to become leaders and advocates for youth mental health. Being a member includes:
=> Developing skills that suit your own interests
=> Learning how to design, drive and deliver events
=> Receive free training and qualifications such as Mental Health First Aid
=> Creating projects that strengthen youth culture while receiving professional mentoring and peer support
=> Ensuring all cultures are being heard - Aboriginal and Torres Strait Islander, Culturally and Linguistically Diverse and LGBTIQA+ inclusive
The YRG meets monthly with projects and events occurring at various times through the year. Anyone aged 14-25 is welcome to join and you can come along to meetings to see if it's right for you.
If you're interested, fill in this short form and we'll be in touch about attending your first meeting: headspace Armidale YRG Form
If you would like more information, contact Charlotte Williams on 02 6738 7272 or email c.williams@centacarenenw.com.au