Are you interested in Youth Advocacy?
Are you aged 16 - 25 and passionate about making a positive impact in youth mental health around our local community? headspace Sunshine wants you to join our Youth Advocacy Group!
The Youth Advocacy Group are a group of young volunteers who work together to promote mental health literacy and awareness through developing resources, events and presentations for the community. Do you have ideas and skills that you want to share in our fight to reduce stigma and discrimination associated with mental, social and other general health issues affecting young people? Do you want your voice to be heard?
headspace Sunshine is here for it! We're looking forward to your applications - click here to begin your journey.
Note: Recruitment for our Youth Advocacy Group has now closed. However, if you're interested in contributing to our projects or have something you're passionate about that you'd like to see in the community, please contact our Community Awareness Officer, Winn at winn.ma@orygen.org.au - she's happy to answer any questions and keep you in the loop!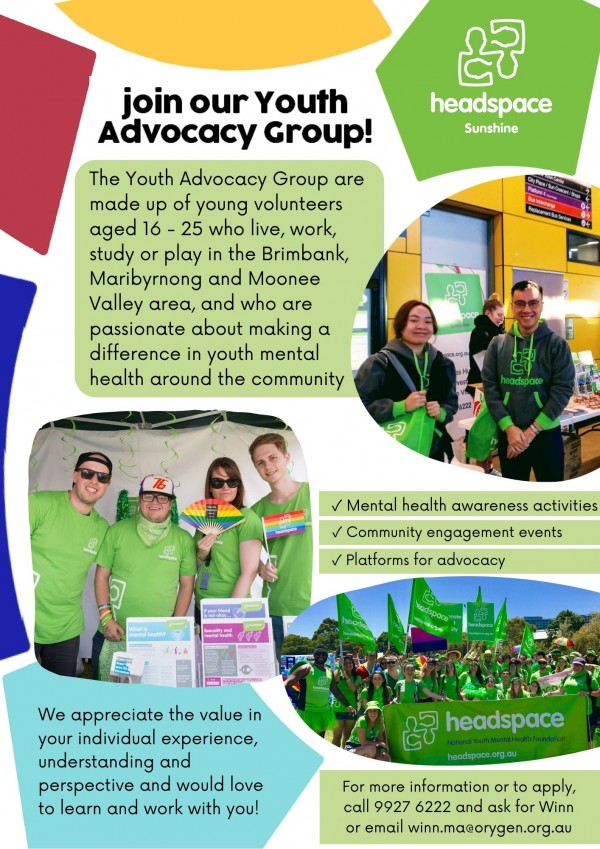 How useful was this page?