Living a world that is hard, you can overcome it
"My past has not defined me, destroyed me, deterred me, or defeated me; it has only strengthened me."
I Understand
For the longest time people have often look to me as the bad influence, the girl who just is always up to something wrong but in reality I'm not, I've only ever tried to do my best but I can understand where they come from. I am quick to anger, get into my emotions quickly and to act upon my first thought, which doesn't help me most of the time. I found two strategies to help myself when I'm in those situations.
Breathing, it is one of the most important things i could tell you is to breath, over breathing can cause you to respond to the issue a lot faster then you are really wanting to, and secondly count to three, this can be in your head or outloud it doesn't matter but do it! this will give you time to be able to process your thoughts in your mind to be focused on the best possible outcome.
I've chosen to give an insight of my life and to how I've become the better person from who I used to be, going through struggles and dealing with family issues doesn't define who you will be in 10 years time, for some it happens quicker!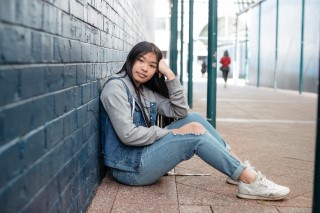 It really just takes time!!
I know that growing up in an environment that feels so overwhelming can take a huge effect on someone's mental wellbeing. A big part in any child's upbringing can affect how they handle situations later in life, I found that growing up in a bad environment is not okay but no one else could change that but YOURSELF.
My mum passed away when I was 16 from obese along with the drugs she was taking, that had gone on for years of my life. I have an older sister (aged 19), and it constantly felt like I had to grow up to take care of both of us. I suffered from depression at an age where teenagers are trying to discover who they are. I self-harmed.
As time went past, I got better. I got through that hard time in my life and started to enjoy life again. I never forgot Mum, and still suffered from depression, but I learnt how to keep going with life and enjoy it.
I went to headspace for about a year of my life to talk through all the issues I was experiencing at home before mum passed, I felt accepted and that someone cared about what I had to say. I was never a person to want to talk about my problems and have them be addressed, always thought one day someone could use them against me. The realization that people are out to help you and not make you feel worse is the best thing.
I turned 16 left the pain my mum gave me behind and focused on making my life the way I wanted it to be, started to aim all my anger at her. I still do to this day. It isn't easy to let go of someone who did cause a lot of your pain, but I do have to thank one part of my growing up to her as it made me a better person, made me stronger and able to handle tough situations that life throws at me!
I have started my life, found the career I want to peruse, and I am taking it. Starting off with my work placement I have started here at Armadale Headspace, everyone is so welcoming and really helping me to understand what it is I will be walking it to when becoming a Youth Worker, making me want it even more. My life was a puzzle I had to put back together, and I have done it.
A big reminder to everyone that you do not have to deal with it all yourself. Counsellors, psychologists are here to help, and they really do, but better help come from having a safe person, a safe space where you can just let it all go.
So, you see, living a world that is hard, you can overcome it!
Thanks for Reading,

Aleesha (aged 17)
How useful was this page?