headspace


Darwin
Ground Level, Stage 4 CASCOM Centre, 13-17 Scaturchio Street , Casuarina, Northern Territory 0811

Phone (08) 8931 5999

Fax (08) 8931 5995
About
headspace Darwin is a free and confidential service that can support eligible young people aged 12 to 25 with their mental health and wellbeing. headspace Darwin provides assistance in 4 key areas: Mental Health, Physical and Sexual Health, Alcohol and Other Drugs (AOD) and Vocational Support (Work and Study).
headspace Darwin encompasses a headspace Primary, headspace Early Psychosis and an Enhanced Care service.
headspace Darwin is an inclusive service which does not discriminate regardless of race, cultural background, religion, sexual orientation, gender, or disability. Our location is also accessible to people living with a disability.
If you would like to make a referral, you can do so by downloading our referral form here.
Hours
Monday:

9:00am - 5:00pm

Tuesday:

9:00am - 7:00pm

Wednesday:

9:00am - 7:00pm

Thursday:

9:00am - 7:00pm

Friday:

9:00am - 5:00pm

Saturday:

Closed

Sunday:

Closed
headspace Darwin is operated by Anglicare NT. All headspace services are funded by the Australian Government Department of Health. Administration of funding is carried out by the headspace centre's local Primary Health Network, in this case, Northern Territory (Health Network NT).
Services could include: provision of contraception and advice, testing, support, treatment and management of sexually transmissible infections(STI) HIV/AIDS and viral hepatitis vaccination for Hepatitis and HPV, pregnancy testing and referral.
GPs can help with any physical health issues as well as issues related to sexual health, drug or alcohol use, relationship problems or feeling down or upset. Your centre may have a GP on site or links to one locally. 
Workers either on site or linked to the centre who can assist you with work or study opportunities. 
A group of young people who help with events and some decision making at a centre. Ask your centre about getting involved.
Mental health workers – which may include psychologists, psychiatrists, counsellors and other workers – that can help if you're just not feeling yourself.
Workers either on site or linked to the centre who can assist you with any alcohol or other drug concern.
A headspace early intervention program to improve the lives of young people, and their families, who are affected by psychosis.
Centres have a range of programs and activities for young people. Just ask your centre what they have on. 
"As soon as I sought help, I suddenly realised that my anxiety was very treatable and that I wasn't alone."
- Charlie
Support us
Support headspace Darwin by making a charitable donation today
Donate now
Jobs and volunteering
Positions currently available at headspace Darwin
Employer: headspace Darwin - Anglicare NT
Deadline: 27 May 2022, 5:00 pm
You will be responsible for the effective and high-quality implementation and delivery of headspace Palmerston services. This will include being actively involved in the final stages of the establishment of the new centre, overseeing the co-design process utilising effective engagement and consultation with young people, the community and service providers in the wider Palmerston region.
You will provide dynamic leadership including management to salaried, contracted, and co-located service providers to ensure the delivery of early intervention youth mental health services to young people aged 12-25 within the headspace model of evidence based best practice.
To be successful in this role you will have approved tertiary qualification and minimum 5 years' experience of leadership in a health-related discipline. Registration with the relevant regulatory body such as APHRA or membership of and adherence to professional standards, such as the AASW for Social Workers. Post graduate qualifications are desirable. And demonstrated effective leadership and management skills and experience in providing leadership with multidisciplinary teams is essential, ideally within an adolescent clinical mental health service.
Please note: It is a requirement that prior to commencing in this role, you must possess a Working with Children (Ochre Card), a National Criminal History Check (within 3 months) and a current Northern Territory manual driver's licence.
It is mandatory for certain workers in certain settings in the Northern Territory to be vaccinated against COVID-19 in line with the NT's Chief Health Officer's direction. If you are wanting to work with us, you will be required to provide evidence of your COVID-19 vaccination status.
Apply now
Employer: headspace Darwin - Anglicare NT
Deadline: 10 Jun 2022, 5:00 pm
You will be responsible for the effective and high-quality delivery of the Enhanced Care program. You will provide management, leadership and coordination to the Enhanced Care Team in the provision of support to young people with complex mental health needs to access holistic mental health support. The Enhanced Care program identifies that many of these young people and their families/carers have complex lives and often face multiple barriers to engaging with services.
The Enhanced Care team aims to address these obstacles that young people face by providing flexible, person centred, evidence based therapeutic, care-coordination mental health support. The Team Leader Enhanced Care will work closely with other service providers to coordinate care, identify and address barriers and challenges for young people to access appropriate service pathways and effective treatment.
You will work in partnership and in collaboration with the leadership team across Anglicare NT and NT based headspace services, to deliver an integrated, flexible, and responsive service to young people and their families. The role will assist the Operations Manager with meeting key reporting requirements to the NT Primary Health Network, Anglicare NT and other bodies as required.
You will uphold the values of Anglicare NT and provide quality services within the scope of the position and associated delegations.
This is an 8 month position.
Please note: It is a requirement that prior to commencing in this role, you must possess a Working with Children (Ochre Card), a National Criminal History Check (within 3 months) and a current Northern Territory manual driver's licence.
As part of the recruitment process, you will be required to address the key selection criteria on the online application on the Anglicare NT website.
For further information on this exciting opportunity, please contact Julia Wormer, Operations Manager on 08 8931 5999.
Experience of working closely with and having a strong understanding of Aboriginal & Torres Strait Islander culture would be considered an advantage.
Anglicare NT is a Child Safe, Equal Employment Opportunity (EEO) employer and strongly encourage Aboriginal and Torres Strait Islander people to apply.
Apply now
More information
headspace Darwin is located at the CASCOM Centre, just off Scaturchio Street in Casuarina. It is also conveniently situated one street away from the Casuarina bus depot! The CASCOM centre is accessible for wheelchairs and people with different needs.
If you're having trouble finding us, call us on (08) 8931 5999 and we'll be able to help you out.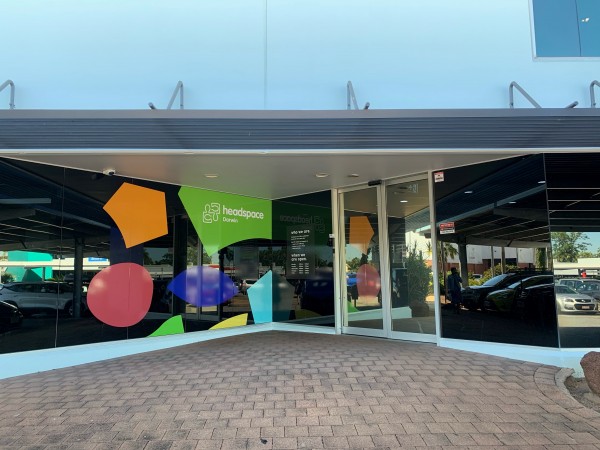 Want to make an appointment? It's easy!
You can call us yourself, a family member, friend or an agency can call on your behalf
or your school can start a referral for you.
Please be aware that this email account is only checked during business hours Monday-Friday 9am to 5pm.
If you need urgent help, please call the NT Mental Health Line on 1800 682 288 or Lifeline on 13 11 14 or Kids Helpline on 1800 55 1800.
Referrals should include as much information as possible and be undertaken with the consent of the young person.

Please click on the link below to download our referral form and consent form:
This form outlines information that the worker will talk with you about at the first appointment. Consent and Confidentiality are important issues for headspace and this will be discussed in detail with all young people who access the service.
For some of our counselling options, you will need a Medicare card to access sessions under a Mental Health Care Plan. For more information on how to apply for a Medicare card, click here.
If you don't have a Medicare card, please call us to discuss options.
Our Youth Ambassador Group (YAG) advocate for youth mental health, physical health and alcohol and other drug issues within the Darwin community.
Being a youth ambassador can involve:


Leading a project in your local area
Research and evaluation of headspace Darwin services
Consultation around resource development such as fact sheets, brochures etc.
Peer support and mentoring
Media spokesperson
Mental health training
Attending local community events as a representative
Being a YAG member provides you with:


The opportunity to have your say and direct youth mental health services
Develop new skills
Meet and work with other likeminded young people who are passionate about youth mental health
Make a difference to youth mental health in your local community
How do I get involved?
We are currently taking expressions of interest for our 2022 Youth Ambassador Group.
If you're aged between 15 to 25 and would like more information, please contact us on (08) 8931 5999 or e-mail headspacedarwin@anglicare-nt.org.au
General Practitioner Referral
Referrals should include as much information as possible and be undertaken with the consent of the young person.
GPs should include a mental health care plan for the young person and attach it to the GP referral form. The referral form and mental health care plan can be:
Phone referrals can also be made by calling (08) 8931 5999.
Click the links below to download a copy of our forms:
headspace Darwin Referral Form
headspace Darwin is committed to providing family inclusive services to young people and their family and friends. Strong family and friends support is pivotal to young people's health and wellbeing. headspace is committed to responding to young people's needs to be undertaken in the context of significant people in their lives, whether they are family members, carers, partners, or friends. Family and friends are often the first to notice a change in a young person's emotions or behaviour that may signal the onset of a mental health or substance use problem. They also frequently encourage the young person to seek help or attempt to access help on their behalf.
headspace Darwin continually look to improve ways by which we engage and include family and friends.
The 2021 Term 1 calendar for headspace Darwin's groups is here! This calendar will be updated as they become available.
Please note: Please read the group descriptions carefully as some of these groups are only accessible to young people who have been accepted into one of headspace Darwin's programs.
A PDF version of the calendar can be downloaded here.
Enhanced Care is a new program at headspace Darwin designed to address the gap in mental health services available to young people with complex or emerging mental health difficulties. Enhanced Care provides therapeutic case management and aims to work with young people who are experiencing multiple challenges in their lives which has impacted on their mental health. The Enhanced Care Program provides a flexible, outreach service with the intension of coordinating care amongst those who are involved in the young person's lives including their family to ensure the best outcomes for the young person.
If you, or anyone you know feel this program could be beneficial, please make a referral by either ringing headspace Darwin on (08) 8931 5999 or completing our referral form.
Evidence shows that meaningful employment provides us with a sense of purpose, social inclusion, and financial independence. The Individual Placement and Support (IPS) program is an evidence-based model of supported employment meeting the needs of people impacted by mental health issues.
Mental health issues often first occur in adolescence and early adulthood. It is estimated that about 75 percent of mental health issues develop by the age of 25. Mental health issues for this group can therefore impact negatively on educational attainment and transition to the workforce, leading to poor employment outcomes. Many teenagers and young adults with a mental health issues do not complete Year 12 and are at high risk of long term labour market disadvantage as well as welfare dependency.
Mental health issues can be a barrier to gaining and keeping employment, yet a good job is often something that keeps people mentally healthy. This new service model provides a vital link between headspace, young people, employers and other support and employment services within the Darwin community.
To be eligible for the IPS program, a young person must be a headspace client and indicate that, as part of their treatment with headspace Darwin, that they would like to return to work, training or education.
headspace Darwin employs two Vocational Specialists, who have assisted young people to overcome barriers, so that they can:
Gain meaningful employment - some work placements to date: administration, warehousing, veterinary assistant, retail, dental assistant, project management, bakery, beauty therapy, hospitality, gaming, community services.

Return to school. Examples include: assist with study plans


Enrol in training courses, including: barista courses, VET courses, job ready training, White Card, traineeships


Enrol in tertiary education, including: University placements - CDU, VET courses and other training organisations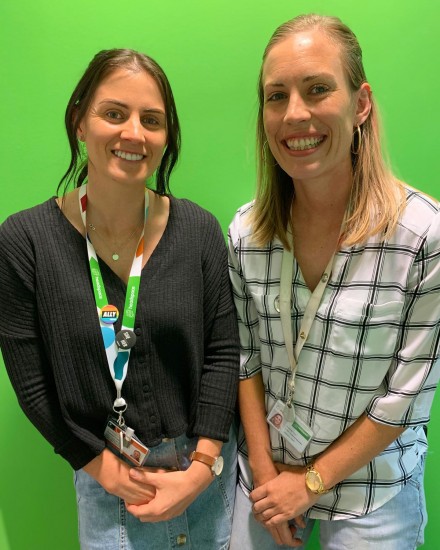 Shareece and Suzy - headspace Darwin IPS Team
The headspace Darwin Community Engagement team can be booked in to attend local events, as well as deliver mental health literacy sessions.
Some of the topics that we can cover include:
General mental health
Awareness of depression, anxiety and other mental health problems
Physical health (including sexual health)
Alcohol and other drugs
Bullying education (including cyberbullying)
Please provide us with reasonable notice to allow for planning.
Contact us by phone on (08) 8931 5999 or by e-mail at headspacedarwin@anglicare-nt.org.au
This is a safe, anonymous online community for people living with mental illness and their families, friends and carers.
Thousands of Australians use these Forums to support each other and share their experiences.
The Forums are hosted by SANE Australia and are moderated 24/7 by mental health professionals.