headspace


Geraldton
193 Marine Terrace, Geraldton, Western Australia 6530

Phone (08) 9943 8111

Fax (08) 9943 8122
About
We provide early intervention services to 12 to 25-year-olds. Our service is designed to make it as easy as possible for a young person and their family to get the help they need for problems affecting their well-being.
If you would like to refer a young person here is a referral form.
There is more information on our referral process down below.
If you are in an emergency situation or need immediate assistance: Call emergency services on 000 If you need to speak to someone urgently:
Lifeline 13 11 14
Kids Helpline 1800 551 800
Suicide Call Back Service 1300 659 467
headspace Geraldton would like to respectfully acknowledge the Yamaji People who are the Traditional Owners and First People of the land on which we meet/stand.
Hours
Monday:

10:00am - 6:00pm

Tuesday:

9:00am - 5:00pm

Wednesday:

10:00am - 5:00pm

Thursday:

9:00am - 8:00pm

Friday:

9:00am - 5:00pm

Saturday:

Closed

Sunday:

Closed
headspace Geraldton is operated by Youth Focus. All headspace services are funded by the Australian Government Department of Health. Administration of funding is carried out by the headspace centre's local Primary Health Network, in this case, Country WA (WA Primary Health Alliance Ltd).
Mental health workers – which may include psychologists, psychiatrists, counsellors and other workers – that can help if you're just not feeling yourself.
Workers either on site or linked to the centre who can assist you with any alcohol or other drug concern.
A group of young people who help with events and some decision making at a centre. Ask your centre about getting involved.
GPs can help with any physical health issues as well as issues related to sexual health, drug or alcohol use, relationship problems or feeling down or upset. Your centre may have a GP on site or links to one locally. 
Workers either on site or linked to the centre who can assist you with work or study opportunities. 
"As soon as I sought help, I suddenly realised that my anxiety was very treatable and that I wasn't alone."
- Charlie
More information
For Family & Friends:
Family members and friends can all refer a young person to headspace Geraldton with permission from the young person.
Call us on (08) 9943 8111 or drop in to our centre at 193 Marine Terrace, Geraldton (across the road from the Jaffle Shack) & have a chat with one of our friendly staff members.
Check out the resources below for family members, carers and friends or come by our centre and have a look at our information wall:
headspace-Geraldton-Info-Magnet.pdf Information-for-parents-and-carers-FAF-web.pdf
If-your-friend-is-not-okay-web.pdf
We love receiving your feedback!
If a young person you are supporting is attending headspace please fill in the form below and drop it in to our anonymous feedback box in our centre foyer or alternatively post it to 193 Marine Terrace, Geraldton or email to admin@headspacegeraldton.com.au
Family-Friends-Feedback-Form.pdf
For Professionals:
If you would like to refer a young person you can find our referral form below. Please fill out the details and email to intake@headspacegeraldton.com.au Or if you have any questions call headspace Geraldton on (08) 9943 8111 and talk with one of our friendly staff members.
Download the headspace Geraldton Referral Form
General Practitioner Referral:
GP's should include a mental health care plan for the young person and attach it to the GP Referral Form. Please email to intake@headspacegeraldton.com.au

Download the headspace Geraldton Referral Form

Referrals should include as much information as possible and be undertaken with the consent of the young person.
When you talk to a headspace worker what you say is kept confidential. This means nothing you say can be passed on to anyone else without your permission however there are a few exceptions. If headspace is seriously worried about your safety or the safety of someone else they must – by law – try to keep everyone safe. This means they might have to share their concerns with someone else. Talk to your headspace worker about confidentiality to ensure you understand how it works.
Our headspace Geraldton team members are dedicated health professionals passionate about helping young people.
What do we provide?
A safe place to talk
Friendly staff
Confidentiality
No judging
Respect
Our team members:
Fiona Stewart – Centre Manager
Stacy Corish - Clinical Lead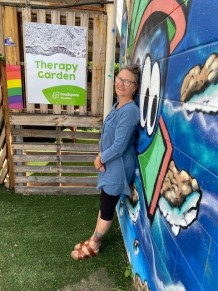 Stacy is a Social Worker from SA who has spent the last twenty years in the Midwest working with children and young people and their families and carers. Stacy is curious about how we form ideas about ourselves and enjoys exploring this through reading people's stories and watching alternative and foreign movies. Stacy loves the beach, walking, all types of weather, her own young people and art, including Art Therapy.
Our team of Psychologists & Counsellors include:
Amber Jackson - Youth Counsellor & Intake Team
Amber loves being able to link young people and families in with support, and feels privileged to be a sounding board for young people's innermost thoughts, feelings and experiences. Working with the team at headspace Geraldton is great, and being a part of community events and festivals is an added bonus. The best part is seeing young people connecting with others, taking control of their health and well being, and working towards their hopes and dreams! Background: Amber has a Bachelor of Human Services majoring in Child and Family Studies ( with honours!) and a Master of Counselling
Yvonne Sargeant - Youth Counsellor
Yvonne loves being able to work with people who are going through challenges and give them a sense of not being alone. Yvonne wants to encourage young people to use their inner strengths to overcome the difficulties. Background: Yvonne has a Bachelor of Education and a Bachelor of Social Work.
"What did you want to be when you grew up?"
What I wanted to be when I grew up, was someone who was a trick rider on a horse. Not much trickery or horses in what I do now. Just the odd joke to break the ice, when talking about people's lives. People are SO interesting and everyone has such a different story and way of seeing the world. I want to know them.
Describe yourself as a young person?
As a young person, I wanted to experience everything there was to do. I wanted to try be an adventurer. But most of all I wanted to be able to do tricks on my horse – like galloping along and be able to do handstands on the horse and swing down touch the ground and bounce back up into the saddle. I did play a lot of sport on my horse – pony club, equestrian events, horse riding holiday camps, show jumping, cross country, trail riding, polocrosse, novelty races and Prince Phillip Games. My first Blue ribbon was in the Apple and Bucket Race at the Brunswick Show where I galloped to the end of the arena, jumped off my horse, dove my head in a bucket of water and picked up an apple in my mouth (without my hands) and jumped back on the horse, galloping to the finish line.
Fave's?
I love having fun. What! That means so many things to so many different people. I love being creative, with art, gardens and any kind of sport. I still enjoy adventures and like to go camping, bushwalking and bike riding.
My favourite movie is Mary and Max – about a girl who rips a page out of an American telephone book and starts writing to one random name she picked. He was an autistic man who was 50 something, so lonely and isolated. They became really good friends, but an interesting finish where there is a twist, to how good stories should finish.
Reto Blanke - Youth Counsellor & providing support to John Willcock College
Reto loves to spend time with people and talk about stuff. Reto feels challenged by any kind of prejudice. Background: Reto has been a Psycho-Social Support facilitator for Personal Helpers and Mentors, and Partners in Recovery. Reto has a Bachelor in Health Science and Community Mental Health Nursing as a RN.
Seth Tullar - Youth Counsellor
When I was young, I fluctuated between wanting to be an astronaut who could shoot lasers. Sadly, I never paid enough attention in Math class to pursue this dream.
As a young person, I was pretty much the same as I am now…except I interrupted far more, and I was bouncing around every room I was placed in. Basically, I was a menace and I still am.
I love to go camping and exploring, when I am not doing sports. I like all types of music, from Willie Nelson to Skeggs, to Run the Jewels to Beyonce to Sublime. When I was young, I was a massive Taylor Swift fan and I've seen her in concert 3 times.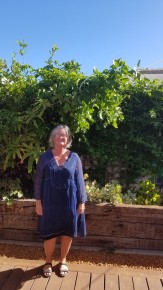 Denise Robertson- Intake/ Youth Counsellor
Denise feels privileged to work at headspace and be in contact with so many inspiring young people.
As part of the intake team she has the opportunity to meet youth at the initial stages of their time with headspace.
Generally an introvert, she enjoys reading, cooking, embroidery, spending time with family and travelling.
On her days off she can be seen walking her dog Millie who has become the new "baby" of her family.
Background: Denise is a mental health nurse who has worked in Canada and WA for many… MANY years.
Suzi Carter - Vocational & Support Services Officer
Suzi loves working alongside people who are passionate and dedicated to the work they do to support young people in our community. Suzi states it is the best feeling when you know you have made a difference for a young person! Background: Suzi has over 27 years experience within the community services and employment industry sectors from Management to Youth Work positions in a variety of diverse programs and roles.
What did you want to be when you grew up: I wanted to be grown up. I have yet to attain this.
Describe yourself as young person? Different
Fave's: Book: A fortunate life. Hobbies: People, art, music and analysing
Administration/Reception:
Mel Haque - Administration Officer
Mel loves coming to work everyday! Working in a service that is committed to helping young people thrive and grow is the best job in the world :) The young people who come in to headspace inspire Mel with their courage, conversation and commitment! Background: Mel has a Bachelor of Arts in History, over 16 years experience in administration and accounts and is about to start a Bachelor of Laws this year - a dream Mel has had since year 12! (Year 12 was a looooong time ago!)
Community Engagement:
Darby absolutely loves spreading the word about headspace!
What did you want to be when you grew up: The first pro bodyboarder from Alice Springs.
Describe yourself as a young person? Always getting in trouble at school for talking too much, a little confused because we moved around so much… and really grateful for my best friends.
Fave's: Book: The Power of One- Bryce Courtenay. Movie: The Hurricane. Music: any nofx, pennywise or dead prez album. Hobbies: Hanging with my two boys and wife, bodyboarding, rolling around on my skatie, gardening, sport, reading, cooking and building stuff!
headspace Geraldton can be booked in to attend your event, school or service in Geraldton by filling in this request form (link) or by calling our centre on (08) 9943 8111 and discussing your requirements with one of our friendly staff members.
Please provide four weeks notice to allow for planning.
headspace Geraldton aims to create and maintain a therapeutic environment from the front door to the back door and all in between including the kitchen.
What this means for staff employed by headspace is that we adopt the Rogerian principles of unconditional positive regard, warmth and empathy in all our interactions with one another, within the headspace environment.
The therapeutic alliance with the young person and their family begins with them walking through our doors, and continues throughout until they leave us. This means that they will be treated with respect, loving kindness, regard, and with compassionate understanding. They are considered as equal in humanity. They are assisted to feel safe, connections are built, and relationships are begun. Essentially they are validated throughout their whole experience at headspace.
Whilst management recognises and needs staff to carry out assessments and gathering of other information, they are equally concerned with the tone, the manner, the way in which these interactions are carried out.
We expect that young people and their families will treat staff in the same manner, however as trained staff, the onus is on us to model this and lead the way by treating clients in this manner and this is how we build a culture of regard, and safety and reciprocity.
Feedback and other forms of expression, whether positive or negative, are very much welcomed and encouraged and are confined to appropriate private conversation where it can be given the time, understanding and value it deserves.
Where are we located?
We are located at 193 Marine Terrace, Geraldton, near the Orana Cinemas end of town! We are opposite Tarts & Co Cafe (formerly Culinary HQ), and the original Jaffle Shack. Our building is next door to the Yamaji Art Centre and the Department of Housing.
Our centre is wheelchair accessible and we can accommodate any special needs you may have. Please contact our friendly admin staff on 9943 8111 to discuss any special requirements you may have so we can help you to access our service comfortably.
There is parking available along Marine Terrace. Please note the parking is 1 hour only. All day free parking is available near the Youth Precinct just along the road from our centre and on Marine Terrace opposite the Police Station and Courthouse.
Public Transport is available:
There are Buswest TransGeraldton Buses 800, 851, 852 and 856, which all travel along Chapman Road
Visit the Buswest website for more info: http://buswest.com.au/location/buswest-geraldton/
Any questions or for more info on how to get to headspace Geraldton please contact our centre on 9943 8111
At headspace Geraldton we understand asking for help can sometimes be hard, so we try to make it as easy and stress free as possible for young people to access our services. headspace Geraldton is a safe and inclusive place for all young people. We celebrate individuality and uniqueness and aim to promote this throughout the community.
All you have to do to make an appointment is give us a call on (08) 9943 8111 or drop in to our new centre at 193 Marine Terrace, Geraldton and register with us. We will then discuss when the next appointment is available. We're just across the road from the Jaffle Shack and Culinary HQ. You can also ask a family member, health worker or case manager to refer you.
Your first appointment will be with one of our friendly staff members who will have a chat with you about your concerns and work with you to figure out the best way headspace Geraldton can help you. You are welcome to bring a family member or a friend along for support to your appointment. Our service is FREE with NO FEES! Even our GP appointments are bulk billed through to Medicare with your permission.
For appointments with our Doctor (GP) if you don't have a Medicare card call us on 9943 8111, we can help you get your number if you don't know it or you can use this link to the Medicare website:  
https://www.humanservices.gov.au/individuals/enablers/get-your-own-medicare-card-15-years-old
headspace Geraldton have an awesome team of experienced & friendly people. We are here to help young people who are going through a tough time. 
Check out some of our resources below or drop by our centre and have a look at our information wall:
Tips-for-a-healthy-headspace-web.pdf                Mental-Health-is-Like-a-Tree-Fact-Sheet.pdf
HSP225-Sleep-Fact-Sheet-DP3.pdf
You can also contact eheadspace, a free phone & online support service for young people on 1800 650 890 or visit eheadspace.org.au to have a confidential chat online.
If you are in crisis or need to speak to someone immediately please contact emergency services:
Geraldton Regional Hospital on (08) 9956 2222
Lifeline on 13 11 14
Kid's Helpline on 1800 55 1800
Rurallink - a specialist after hours mental health telephone service for people in rural communities of Western Australia. 4.30pm – 8:30am Monday to Friday and 24 hours Saturday, Sunday and public holidays. During business hours you will be connected to your local community mental health clinic - Free call 1800 552 002